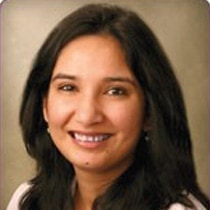 Gupta, Manjari, MD, FACOG
Specialty:
Obstetrics and Gynecology
Address:
172 Summerhill Road
East Brunswick, NJ 08816
Dr. Gupta joined OB/GYN of East Brunswick in 2011 following her Obstetrical and Gynecological residency at Saint Peter's University Hospital. Prior to coming to the United States, Dr. Gupta received her MD from GR Medical College in India and pursued Residency in Anesthesiology for a year at Gandhi Medical College. She also worked at vaccination camps and contributed at clinics for the underprivileged alongside Medical School. Dr. Gupta is the two-time winner of the Annual Clinical Symposium: Physiology of Obstructive Jaundice and Pathology of Gastric Ulcer. She also won a gold medal for academic achievement in ENT and graduated in the top 1 percentile of her class. She is board certified and recognized as a Fellow of the American College of Obstetrics and Gynecology. Dr. Gupta is a member of the New Jersey Obstetrical and Gynecological Society and the Medical Society of New Jersey. When not caring for her patients, Dr. Gupta is enjoying her time with her 3 kids at the Ice-skating rink.